Feel free get in touch with us via email or social media.
© UEA. All rights reserved. University of East Anglia, Norwich Research Park, Norwich, Norfolk, NR4 7TJ, UK
ICYMI: The Conference Keynote Address and Panel Discussion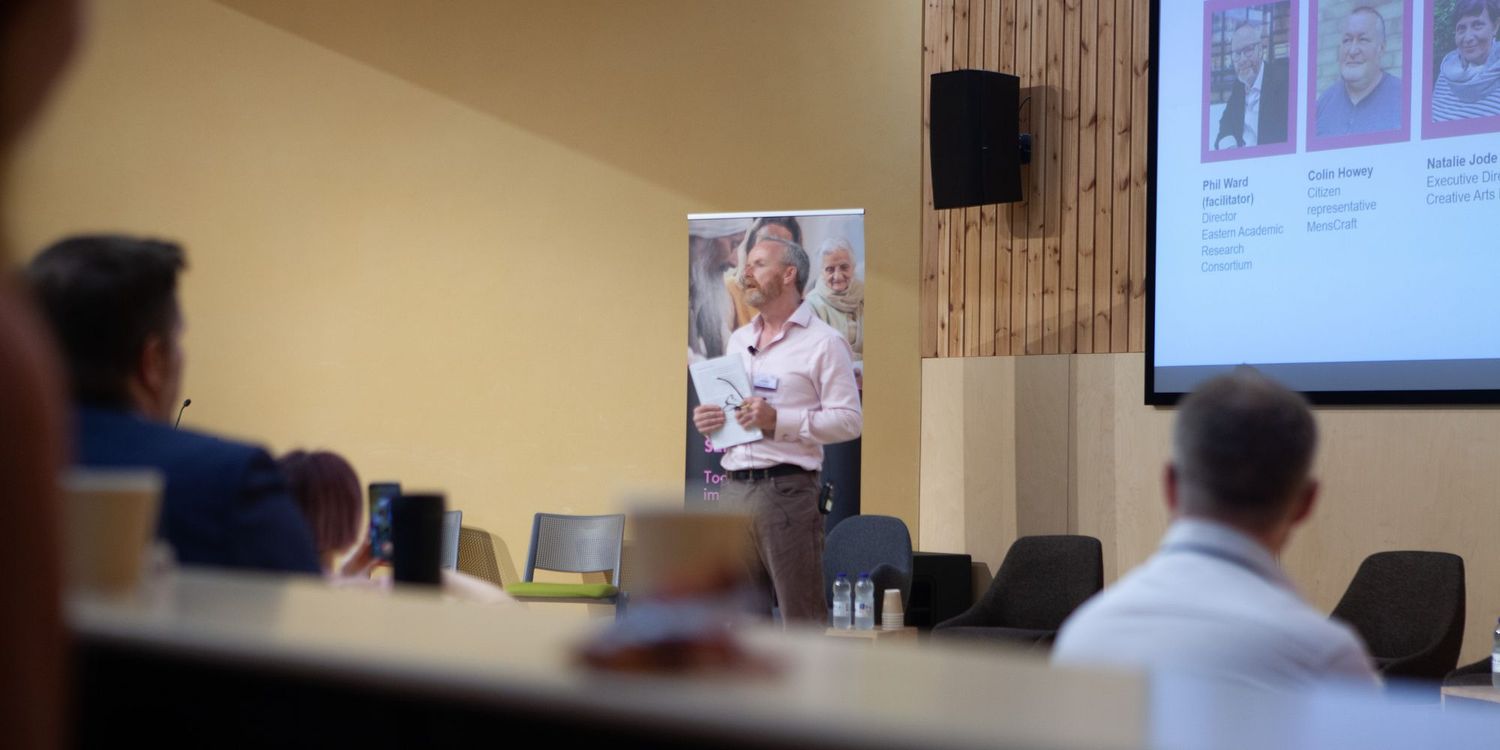 In July, we hosted our Collaborate to Innovate Conference. Our blog detailing the day can be found here.
If you were unable to attend, then you can watch the Keynote address from Charles ffrench-Constant, the Pro Vice Chanellor, Faculty of Medicine and Health Sciences and Chair of the Executive Board of the UEA Health and Social Care Partners, as well as welcomes by Carrie Jackson, the then-Research Director for UEA Health and Social Care Partners and Caitlin Notley, the Director of Citizens Academy.
For subtitles, please click the below video:
Click here for the Citiens Academy website.
After Professor Sir Michael Marmot's pre-recorded speech, entitled "Tackling Health Inequalities: Science and Community Engagement", Phil Ward facilitated a panel to discuss Sir Marmot's observations and how best to tackle health inequalities.
For subtitles, please click the below video:
Phil Ward is the Director of Eastern Arc, a regional research consortium comprising of the universities of East Anglia (UEA), Essex and Kent. The consortium works to support collaborations across the greater southeast, as well as advocating on behalf of the region. Phil was previously Deputy Director of Research Services at Kent, and before then worked for the Arts and Humanities Research Council (AHRC). He writes regularly for a range of publications, and runs the Research Fundermentals website. He has published a guide for early career researchers on getting research published, co-authored with Australian colleagues.
Phil was joined by Kevin Daniels, a Professor of Organisational Behaviour in the Norwich Business School at UEA. Kevin has led multiple research projects cncerned with workplace health, safety and wellbeing. He is a Fellow of the British Psychological Society, a Fellow of the Academy of Social Sciences and a Fellow of the Royal Society of Arts. In 2022, he became the receipient of a prestigious research award fromt he Humboldt Foundation of Germany.
Stuart Lines, who has been a Director of Public Health (DPH) for over 5 years and is currently the interim DPH with Norfolk County Council. Prior to this he was DPH for Enfield Council and then for the three East Berkshire councils.
Colin Howey works for MensCraft, a Norfolk-based charity. The aim of MensCraft is to nurture and empower gentler men, encouraging them to be kinder to themselves and others. Through various activities and activism, MensCraft brings men together to build friendships, connections, and a sense of belonging. In his role, Colin promotes a culture of lifestyle medicine, recognising that happier and healthier men contribute to better relationships as brothers, partners, fathers, sones, colleagues, and friends.
Natalie Jode, Executive Director of Creative Arts East, an arts and development charity working in rural communities across Norfolk, Suffolk and Cambridgeshire. Programmes include creative health workshops and afternoon performances for lonely and/or vulnerable older people, including those living with a dementia or other life limiting illness, and their carers.
Louise Wilsher, the Strategic Head of Innovation and Growth at Community360, a charity based in Essex. Having initially joined the organisation as a volunteer, Louise has worked for Community360 for over 17 years.
She has specialised in developing programmes within places that target improving the suatainability of voluntary and community organisations and improving health and wellbeing outcomes for citizens.
Related News & Events
No results, please try changing the filters
Stay up to date
Subscribe to our newsletter to receive news on the latest updates and projects in health and social care research.