Feel free get in touch with us via email or social media.
© UEA. All rights reserved. University of East Anglia, Norwich Research Park, Norwich, Norfolk, NR4 7TJ, UK
Working on Worries: Enabling School Staff to Support Children's Well-being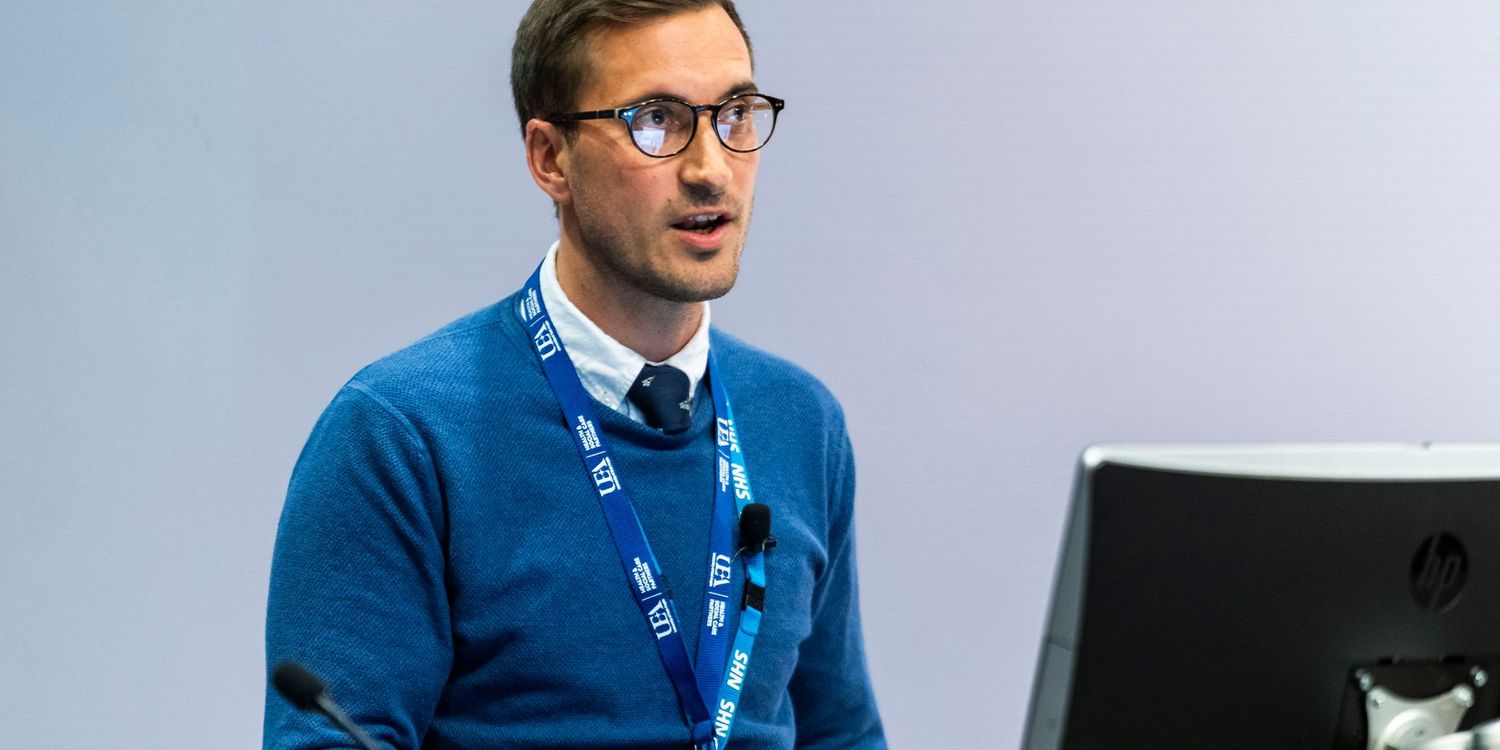 Rates of mental health difficulties in 7 to 16-year olds are increasing, with estimates suggesting that almost one in five children in this age group in 2022 had a probable mental health disorder compared with one in nine in 2017 (NHS Digital, 2022). In addition, there are frequent challenges faced by families and children when it comes to accessing prompt support from mental health services, primarily due to heightened demand and capacity limitations.
It is really important that health and social care organisations work collaboratively to offer children and young people accessible support services that meet their needs and offer the best care. In 2019, a research team from Norfolk and Suffolk NHS Foundation Trust led by Tim Clarke, Brioney Gee, Jon Wilson and Bonnie Teague was awarded seed corn funding from UEA Health and Social Care Partners (UEAHSCP), alongside an NIHR Applied Research Collaboration East of England (ARC) implementation fellowship, to develop engaging training resources and sessions to upskill school staff to deliver a programme for parents and carers to support their child's mental health. 
We sat down with the team from NSFT to share their experiences, learning and insights to show the difference working in partnership can make. 
Who was this study for?
The project arose through the dedicated work of pastoral staff in a group of primary schools, called the Nebula Federation, to support pupils and their families address anxiety as early and effectively as possible. 
School staff have a unique role within the pathway for supporting young people with emerging mental health difficulties. They are well placed to identify young people and have a trusted relationship with both the pupil and their family or carers.
What does it aim to do?
The core objective of this study was to pilot the implementation of Parent-Delivered Cognitive Behavioural Therapy (CBT) intervention for child anxiety through training primary school pastoral staff to deliver it. Working on Worries (WoW) is a collaborative, sustainable, early intervention to support children's mental health. Using the Parent-Delivered CBT approach, trained school pastoral staff work with parents to guide them through adopting strategies, working with their child to manage behaviours and regulate emotions and to change their way of thinking about anxiety. The WoW programme aims to embed training and awareness across schools in the East of England to improve and maintain children's mental health in order to offer high-quality support at the earliest possible opportunity, and avoid onwards referrals to external agencies, therefore reducing the strain on services.
The study was funded by UEAHSCP and the NIHR ARC East of England.
Why is this study important?
Particularly due to the impact of COVID-19, school staff report that they've seen an increase in parents and carers seeking support for children who are experiencing mental health problems, particularly anxiety. If left untreated, mental health problems in children can lead to an inability to focus on schoolwork or emotionally regulate, which impacts a child's learning progression. 
Mental Health Support Teams, a national initiative, are beginning to support schools to adopt whole-school mental health approaches as well as offer interventions for children, young people and their families where low-intensity evidence-based interventions might benefit.
While this is being formed, it is important that smaller-scale projects can demonstrate how we can support children and young people in their educational environment. This approach may also inform how best to support and offer treatment to young people within a school setting. 
How was the study designed?
The study tested a new way of helping children with anxiety at school using a combination of different ideas and research methods to create a plan for implementing this new approach in schools. The study involved 12 parents/carers and 5 school staff members who were trained to support children who were identified by school staff and their parents/carers as having anxiety difficulties. Our researchers used different methods to see if the new approach was helpful, and also asked the parents, staff and children about their experiences. They looked at how well the staff followed the training and analysed the results to see if the new approach was effective. Finally, they looked at the feedback from everyone involved to get a better understanding of their experience of the new intervention.
At the heart of the intervention's success were the dedicated pastoral staff, who played a crucial role in delivering effective support to children struggling with anxiety. Their training, insights, and ongoing support were essential to the programme's implementation and positive outcomes.
We would like to extend a special thank you to Natalie Brown, the pastoral manager at Nebula Federation primary schools, whose leadership, hard work, dedication, and guidance were instrumental in making this project a success.
How did this project include citizens?
Our researchers worked closely with parents/carers and the pastoral staff facilitators to deliver the training. Additionally, parents participated in a qualitative survey regarding the pilot study, revealing initial ambivalence but a subsequent sense of gratitude for the provided support.
Participants generally had a positive perception of their engagement and relationship with the facilitator. They described the facilitators as engaging and empathetic. The intervention itself was generally considered easy to understand and acceptable. Most participants believed that the intervention had a positive impact and brought about positive changes for both the child and the family.
What went well and what were the challenges with this research study? 
This is a great example of how organisations across the system including UEAHSCP, Nebula Federation, Ormiston Families, Norfolk and Suffolk NHS Foundation Trust, and the ARC East of England can realise an ambition and implement sustainably.
Due to the COVID-19 pandemic, the team had to adapt to an online method of delivery and pause the project at times throughout 2020. However, since then we have successfully continued to train and support pastoral staff and collect data so that we have been able to report on implementation and outcomes.
How have the findings from your research resulted in changes in practice? And how will we measure whether these are sustainable?
The study reported that there were positive trends for reduced anxiety and significant reductions on the impact of anxiety in their child/family's life. All 12 families moved towards at least one of their goals with 8 reaching reliable change. In terms of implementation factors, all facilitators (pastoral staff) were either fully or mostly adherent to the intervention components in all sessions. They felt confident delivering the intervention and following the training, ongoing supervision and completion of sessions, now see this as an integral, normal and sustained part of their role. Parent-delivered CBT can potentially be successfully delivered by pastoral Primary school staff and, given the right implementation context, is an acceptable, clinically useful, and helpful approach to consider.
Following our successful pilot with the Nebula Federation of Primary Schools, pastoral workers across their schools have sustained this approach and continue to offer this intervention to parent/carers of children with anxiety difficulties. They have also reported that they have improved knowledge and skills in this area as well as seen a reduction on onward referrals they make for mental health support.
Furthermore, Natalie Brown, Pastoral Manager is a core member of our team who have been successful in NIHR ARC Mental Health Implementation Network (MHIN) funding to expand this pilot to more primary schools in Norfolk & Waveney. We have received additional implementation funding from the Norfolk & Waveney ICB to support this expansion also which started in February 2023. It will see us train at least 70 more pastoral workers across a larger number of primary schools in this face-to-face approach as well as a new digital version. We have also trained over 20 clinicians as trainers in this approach (parent-delivered CBT for child anxiety problems) who will help ensure this approach is sustained in the local system. They will also offer regular Collaborative Learning and Support Sessions (CLaSS) to the trained pastoral workers to support adherence to this model and further implement this approach. We will be evaluating implementation outcomes as part of this extension.
Through our study, we have discovered that with the right training, supervision, resources, and allocated time, pastoral staff in primary schools can successfully implement parent-delivered CBT. The key to optimizing and sustaining this intervention lies in carefully considering implementation factors and developing a comprehensive strategy that encompasses training, flexibility in session durations to suit the school context, collaboration with external mental health services, and strong internal leadership. Additionally, staff dedication and seamless integration of the intervention into their workload are vital components for achieving successful implementation.
For a comprehensive outline of the study's design, you can access the team's poster displayed for ARC East of England Fellows Showcase event, 2021.
Tim Clarke is a Principal Research Clinical Psychologist at Norfolk and Suffolk NHS Foundation Trust, working within children and young people's mental health services. His focus is developing research in this field including designing, adapting, testing and implementing psychological interventions. Tim is really interested in how we improve services by adapting and implementing interventions from the evidence base / research literature to individual contexts. You can contact Tim on Timothy.Clarke@nsft.nhs.uk.
Funding Timeline: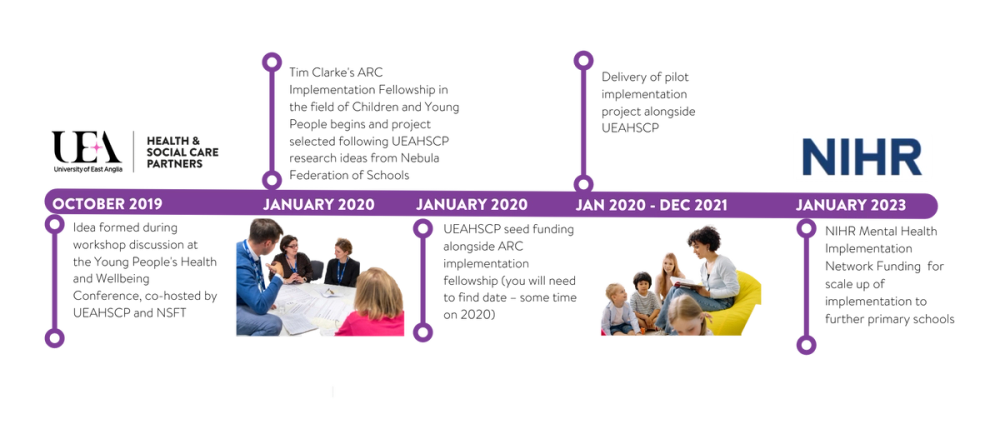 Related News & Events
No results, please try changing the filters
Stay up to date
Subscribe to our newsletter to receive news on the latest updates and projects in health and social care research.