Feel free get in touch with us via email or social media.
© UEA. All rights reserved. University of East Anglia, Norwich Research Park, Norwich, Norfolk, NR4 7TJ, UK
Leading the Way: Empowering Nurses and Allied Health Professionals across Research and System Improvement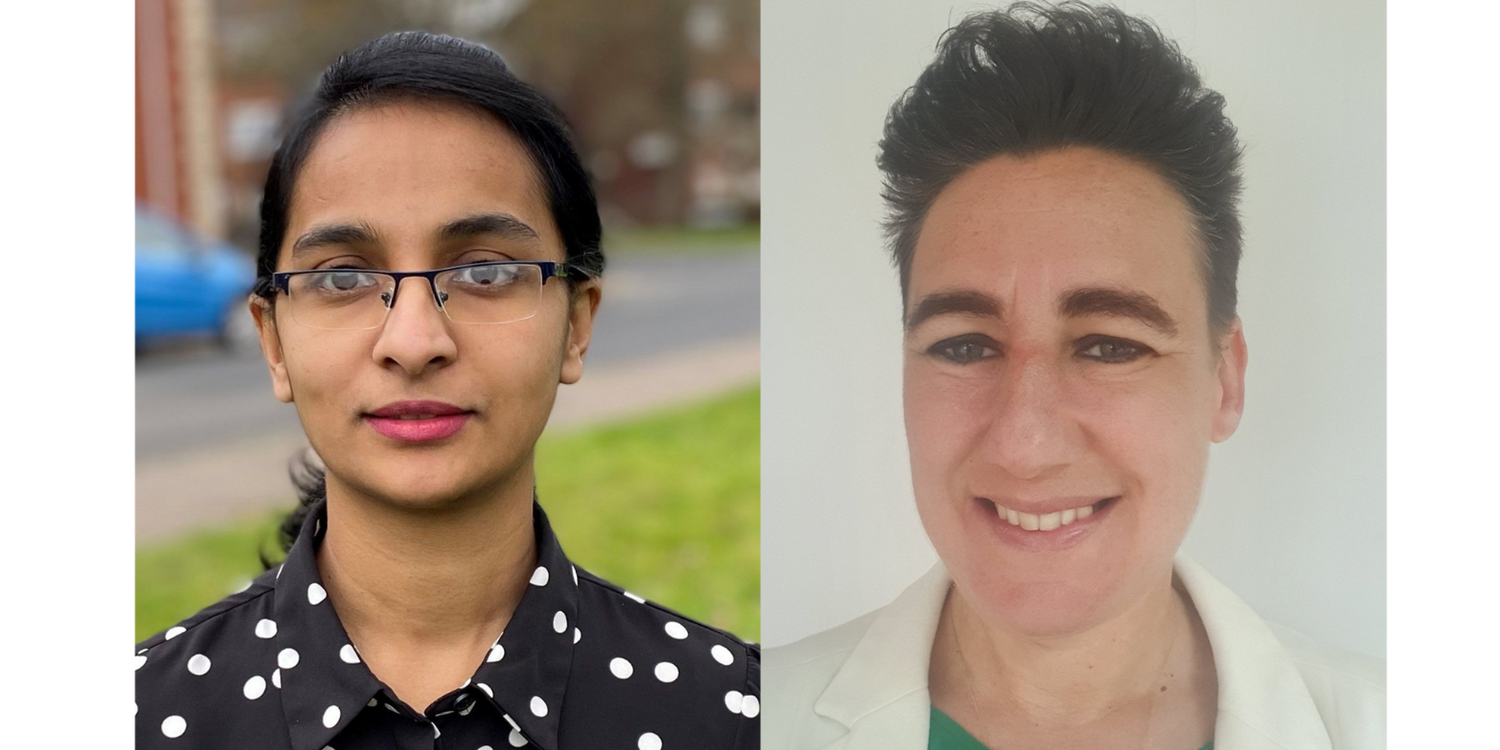 Welcome to this special interview in honour of International Nurses Day.
Today, we have the pleasure of speaking with Mehar Shiju and Helen Hall, two passionate researchers from our partner organisation James Paget University NHS Foundation Trust (JPUH), who have made significant contributions towards further embedding research and system improvement.
In this interview, we will be exploring the challenges and triumphs of developing, embedding, and sustaining research led by Nurses, Midwives, and Allied Health Professionals (NMAHPs).
With research activity now a statutory requirement for NHS organisations, and new National Research Strategies launched by the Chief Nursing Office, Health Education England, and the Chief Midwifery Office, it's clear that effectively embedding research is essential within NHS organisations.
Join us as we learn all about the highly collaborative Embedded Researcher model, a locally led model co-designed by JPUH, Newcastle upon Tyne Hospital, and the University of East Anglia's Norfolk Initiative for Coastal and rural Health Equalities (NICHE Anchor Institute).
Mehar, Helen, welcome! Thank you so much for chatting with us today.
Firstly, could you tell us more about your work supporting embedded research for nurses, midwives and AHPs across our region?
Mehar: Thank you for this opportunity to share the important work that we are doing. The NMAHPs Research and Evaluation Service (NMAHP-RES), has been designed to develop our region's workforce in order to achieve our shared vision to be a centre of research excellence. We focus on research capacity, capability, and confidence building. By research capacity, we mean the ability to conduct research, research capability is defined as the need to gain a strong grounding in research, and research confidence is the ability to confidently contribute to, facilitate, or lead, research and research related activities.
Under the leadership of our senior nurse for NMAHPs research, Claire Whitehouse, we began by identifying the needs of our workforce through multiple stakeholder events, which led to the creation of our James Paget NMAHP Research and Evaluation Service in 2020. The service provides an opportunity to boost the Trust's reputation as a trailblazer in meeting the new national research strategies.
We believe research should be embedded in everybody's work, whatever your role in healthcare. The idea of embedded research is not new; however, traditionally this involved an academic researcher working in a clinical organisation for a project-limited timeframe. Whilst this produced good research and evaluation work, the projects were generally not sustained, mostly because the buy-in from teams and systems was not present and the overall approach also supported the tone of research being done by others, rather than by clinical staff.
Our embedded researcher model places the clinician as the main researcher working in collaboration with academic organisations and developing research and evaluation projects which matter to our population. Two embedded researchers have been in post at JPUH since April 2022 and were appointed to both maternity and integrated therapies within the existing establishment funding structures. Newcastle launched their pilot post in January 2023 which will complete the pilot set up for testing the model across two very different organisations. The success of the pilot post at JPUH and the promotion of our model has led to international interest in our work.
An extension of the embedded researcher model is the James Paget Research Evaluation and Quality Improvement Scholarships, which commenced in May 2022 as a proof-of-concept programme, funded through James Paget Innovation Funds and have supported nine scholars across three organisations. Following the success of these scholarships, we scaled this up to include the wider health and social care workforce across the Norfolk and Waveney Integrated Care System (NWICS). This year's Research, Evaluation and Quality Improvement Scholarship for 2023/24 is led by JPUH and funded by Norfolk Initiative for Coastal and rural Health Equalities (NICHE Anchor Institute).Wearesupporting17 scholars across 10 organisations who will be starting in mid-June. We have also identified research interested frontline staff members by being a visible presence in the clinical areas and have been supporting them to take their initial project ideas forward.
Helen: As Mehar has mentioned, we have ten organisations taking part in our NMAHPs Research Evaluation Service across the whole of the ICS geography including IC24, Queen Elizabeth Hospital, Norfolk and Norwich Hospital, and Norfolk Community Health and Care; we also have care homes taking part in this program. It's a real opportunity for collaboration across all these different organisations. It's so beneficial to get everybody into the room to explore how everybody works across different professions. It's a rich opportunity for collaborative working across organisational boundaries.
What was the need for this initiative? 
Helen: We know that nurses, midwives and Allied health professionals are hugely underrepresented in leading research, despite the fact that they provide much of the care and treatment to our population. This is why we need to have initiatives to stimulate activity and growth in innovation and research and that can start with quality improvement, evaluation and audit projects.
We also need the skills and the confidence to write research up, to evaluate research, and to share what we've learned by taking up impact dissemination opportunities such as presenting at conferences and events and publishing our work - really working to showcase the work we're doing.
Our clinical practice is underpinned by an evidence base, which is delivered by robust research. In order to have this evidence base, healthcare professionals really have to contribute to take a leading role in research. I saw Ruth Endacott, NIHR's Nursing Midwifery Director, speak recently at the recent launch of the Chief Midwifery Officer's National Maternity Research Strategy. She said really loudly and clearly that research is everybody's business, and that's the ethos that we want to grow, to make sure that every healthcare professional involved in health and care across the ICS really understands the vital role that they can play in contributing to the evidence base and to research. 
Mehar: Evidence suggests that research active organisations have better patient outcomes and improved staff retention. We believe that if NMAHPs in clinical practice are supported and given capacity, capability and confidence to develop and enact their own innovative ideas, initially on a small scale, that a higher percentage would become research active later.
What are some of the challenges of developing, embedding and sustaining, research led by NMAHPs in increasingly complex clinical environments? How are you aiming to overcome these challenges? 
Mehar: A lack of sufficiently skilled staff, funding, organisational and managerial level support, time and resource are known barriers to NMAHP-led research and the infrastructure supporting NMAHPs nationally is challenging. Currently the medical model of training and clinical care delivery includes aspects of dedicated research time. Conversely,most NMAHP job plans currently do not account for this. At JPUH, we have made inroads in this agenda within NMAHP professions using 'proof of concept' posts such as embedded researchers and scholars.
To be truly inclusive in our research and evaluation offering at JPUH and to enhance the literature and evidence base for best care, we must provide dedicated research and evaluation time, focus, funding and clear value for those conducting this work in the NMHAP professions.
Helen: One of the challenges that we have is showcasing models of NMAHP leadership across research. To counter this, we are engaging in clinical academic pathways ourselves and undertaking academic courses, such as Master's and PhD courses, to be visible role models in this area and to inspire others to follow these pathways.
In order to overcome some of the challenges we have in embedding research and making it part of the culture of everyday life, we actively promote and encourage staff to engage with researchcapacity building opportunities. There are an awful lot of opportunities out there, there are partner funding streams from UEA Health and Social Care Partners for example, as well as research delivery internships as well a whole list of activities and engagement events, and skill building capacity opportunities. We promote and support people to apply for these opportunities, and we also focus on increasing evaluation and quality improvement activity and supporting the write-up and dissemination of the activity. We'reseeing our staff have confidence to apply for further grants and research capability development due to this increased support.
Mehar: NMAHPs sometimes feel like they are not eligible or they're not able to do research activities. Within our department, we offer bespoke support sessions where we support them throughout their application process and find different funding routes and opportunities and fellowships which will be suitable to be undertaken along with their clinical roles. This is another way to inspire and encourage people to be part of clinical lead research. We work collaboratively with different team members involved with embedding research within JPUH. We work closely with the QI Hub and we're fortunate to have great support from the Chief Nurse and Deputy Chief Nurse who support and inspire us to move forward. We have partnered with UEA who have provided our work with a lot of support and encouragement. And we are collaborating with the N&WICS and research and evaluation team within the N&WICB who have been really positive and supportive.
What drives you to continue to advance clinical research? 
Mehar: When we see people succeeding, especially when we have played a part in their success, it gives us a sense of pride and satisfaction. We have seen a phenomenal change in our scholars in the last cohort, which is a testament to the effectiveness of our program and the approach we have taken. Seeing this success drives us to continue and expand our efforts knowing that we are making a real difference in the lives of others. As we move forward, we are motivated to push even harder to ensure that even more people can succeed and thrive
Helen: I absolutely love being part of the research community because I find it so supportive. I think it's encouraging and inclusive, whatever stage of your career. It provides a huge opportunity for collaborative working across organisations and professions to provide better care and treatments for our population. I enjoy supporting and encouraging our workforce and I get a real thrill seeing those who have engaged with our scholarship program or our embedded research model using those new skills to make a difference in improving services and patient care.
Helen Hall is Senior AHP for Nursing, Midwifery and AHP (NMAHP) Research at James Paget University Hospitals NHS Foundation Trust. Helen is currently leading the nursing midwifery and allied health professions research and evaluation service at the James Paget University Hospitals NHS Foundation Trust. This involves building innovation capacity, capability and confidence within the JPUH workforce and increasingly across the Norfolk and Waveney Integrated Care system. Helen is a HCPC registered paramedic by profession and is about to complete a Master's Degree in clinical research at the University of East Anglia. Helen is secretary to the council of allied health professions research (CAHPR) East Anglia Hub and a member of the Cambridge East HRA Research Ethics committee. You can connect with Helen on Twitter @ParamedicHelen.
Mehar Shiju is a Research and Evaluation Associate within the NMAHP Research and Evaluation Service at James Paget University Hospitals NHS Foundation Trust. Mehar is a registered adult nurse with a background of critical care, cardiology and clinical education. Having trained in India in 2010, she completed her Masters in Critical Care Nursing two years later. Currently, in her role as the research and evaluation associate within Nurses, Midwives and Allied health professionals - Research and Evaluation Service (NMAHP-RES), she leads and facilitates a number of evaluation projects at James Paget University Hospital (JPUH). She plays a key role in the design and delivery of Research, Evaluation and Quality Improvement scholarship.
She is undertaking HEE funded Premasters internship, which gives her a structured opportunity to engage with and be exposed to a clinical academic, research environment and develop skills in evidence-based practice. Mehar is excited to be part of NMAHP-RES and the amazing work that is happening at JPUH, which has now captured regional, national and international attention. You can connect with Mehar on Twitter @MeharShiju.
Please email ueahscp@uea.ac.uk if you're interested in finding out more about this initiative.
Related News & Events
No results, please try changing the filters
Stay up to date
Subscribe to our newsletter to receive news on the latest updates and projects in health and social care research.