Feel free get in touch with us via email or social media.
© UEA. All rights reserved. University of East Anglia, Norwich Research Park, Norwich, Norfolk, NR4 7TJ, UK
Join us for our November 2023 Research Sandpit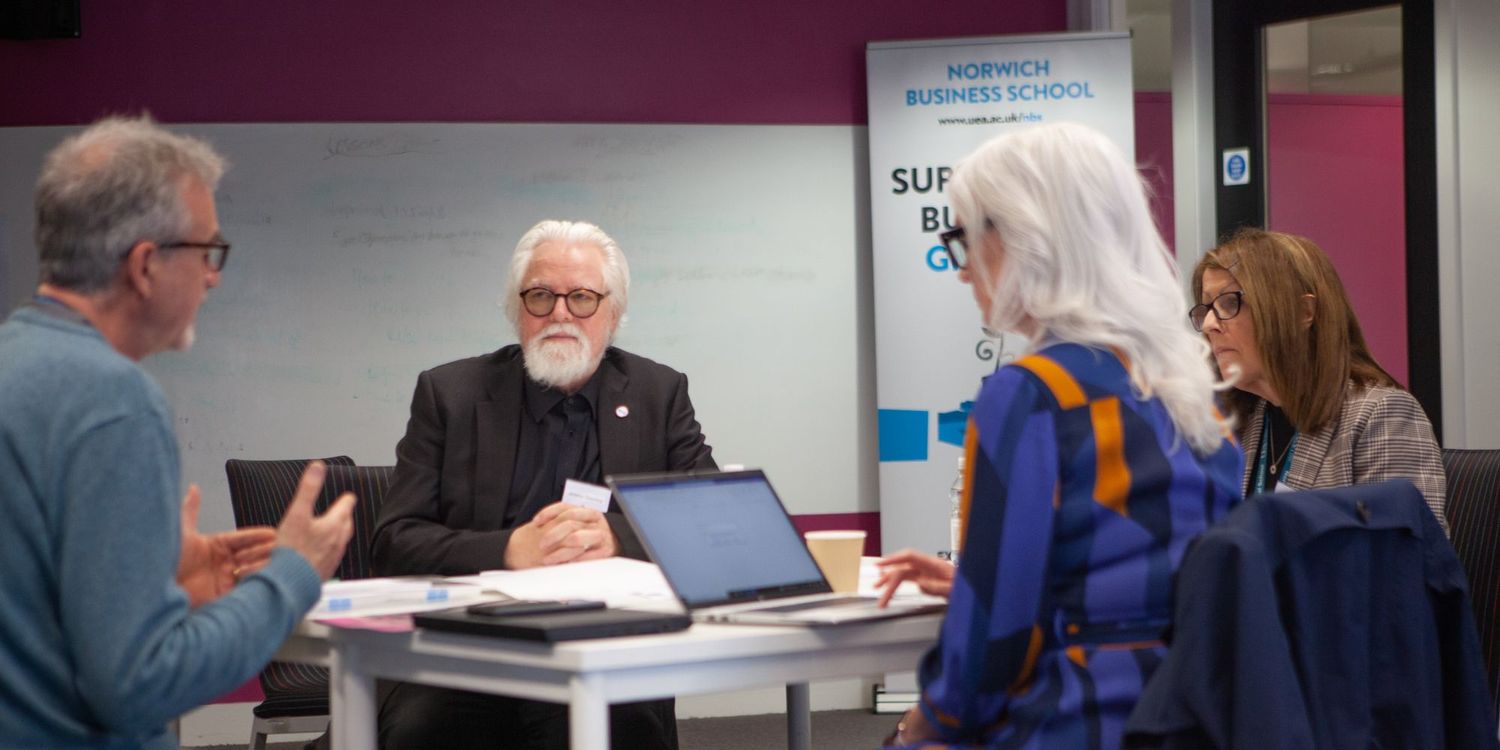 Do you have an idea for a project that you want to strengthen for potential proposal opportunities?
Our twice-yearly Research Sandpit events can help turn your ideas into fundable projects.
Research Sandpits provide networking opportunities and discussion time between researchers, partners, and PPI participants to transform good ideas into strong practice-led research projects.
We provide tailored support to individuals and teams from our partner organisations to help refine their ideas into workable research proposals that can either receive seedcorn funding from future UEAHSCP Research Capability Funding Calls, or from bigger grants from external organisations.
Researchers can link with experienced research facilitators that can help shape proposals with input from citizens and service users drawn from the Citizens Academy. Our facilitators are either subject experts in the field, experienced in research design, or leading large scale research programmes.
We can also provide support in working out the costings for your proposals.
Our research themes for both our Research Sandpit and Funding Call events are:
Population Health Management, reducing inequalities and supporting prevention
Improving Mental Health
Management of long-term conditions and multimorbidity
Improving integrated urgent and emergency care
Learning disability and autism
Workforce development and sustainability
Digital technology to improve care delivery
Wednesday 22 November, 1pm - 5pm The Research Sandpit is taking place in person at the New Sciences Building, Chancellors Drive, Norwich, NR4 7TJ, University of East Anglia.
A Research Sandpit is a cross-sector community, bringing practitioners and active researchers across disciplines together with potential users of research outcomes.
Our workshops provide a safe space to think, play, plan, model, prototype and test ideas.
They are a way to drive lateral thinking and radical approaches to address research challenges, helping to foster innovation and creativity in research design.
They are also a means of developing novel interdisciplinary research.
This event is open to staff from across our
20-30 participants drawn from a diverse practice, academic, third sector, and policy background with the ability to think beyond traditional disciplines.
The group has an external facilitator to focus discussions; and
Methods/funding mentors from research and innovation at the University.
Enable practitioners to connect with researchers to develop interdisciplinary, creative and innovative solutions to a problem.
Develop a proposal for applying for Partnership seedcorn funding or an alternative funding stream.
Propose topics, deliver plans and/or a final product, and plan for future direction.
Provide developmental opportunities for postdoctoral researchers whilst addressing 'real-world' problems and leading to 'real-world' outcomes.
Benefit from peer-review to develop the quality of the projects.
Develop participants' research skills, in particular project development, collaboration and applying for funding.
Let us know what your idea/challenge/question is by Wednesday 25 October .
After we have received and reviewed your submission, we will send you a link to register to attend the event.
Bring your research idea/challenge/question to the Sandpit on the announced date 22 November.
We will either match you to an experienced facilitator to give you detailed feedback on your research proposal OR a team of experts will give you advice about honing your idea and getting good design advice.
You will be provided with some dedicated time to discuss your ideas with the aim of developing a short proof of concept project proposal for the next UEAHSCP Partnership funding call.
Related News & Events
No results, please try changing the filters
Stay up to date
Subscribe to our newsletter to receive news on the latest updates and projects in health and social care research.